My two oldest boys started back to school today, and my four-year-old starts afternoon preschool next Tuesday. Baby E is doing a great job napping in the afternoon, so theoretically speaking, I am going to have exactly
10 whole hours to myself every week!!!
What ever am I going to do with
all that time??
Seriously.
Seriously?
Ummm...where do I start!?
I started making a "To-Do" list and it's already three pages long.
Three freaking pages.
And I keep thinking of more things to add. All of the things that I thought I would do this summer when I was paying a babysitter $12/hour to watch my boys just didn't get done.
Perhaps that was because while I was running errands or
sitting at coffeehouses writing
or taking someone to a doctor or therapy appointment, everyone else was home making even more messes and creating even more things for me "to do."
My friend, H, says that she doesn't worry about the house all summer long. They are busy going to the pool and playing tennis and out having fun. She spends the school year catching up.
At the rate the junk is accumulating in my house and in my head, I will need all of the school years from now until my last is out of the house to get it all done.
My head is spinning with all of the things I want to do, and I have absolutely no idea where to start. Here is a peek into my list:
Clean every room in the house:
Oh no, sillies, I don't mean actually
clean
. Heavens, I'm not that insane. I mean clean out all the junk. You know, the boys are out of the house, so now would be the ideal time to sneak into their rooms and purge all the nooks and crannies of all the crap fast food toys, candy wrappers, maps from every single place we have
ever
visited, bits of scrap paper, torn books, miniature stuffed animals, etc...to infinity. Every broken souvenir or too small shark shirt that I've been trying to get rid of for a year under protests of "but I still like that!" is going into a garbage sack. Hee hee hee.
This goes for my closet and two rooms in the basement where I have just been
shoving
stuff thinking 'I'll take care of it later.'
Note to self: It's Later.
Archiving Our Family History:
Look, I gave up on "scrap booking" a long time ago. But there are still things of the boys and mine I'd like to save. Whether I do it cleverly, such as in online albums and digital pictures or I do it the old-fashioned way with actual photo albums and scrapbooks, it's still going to take time.
I made a pact with myself that each of my boys would at least have a baby book of his first year because I don't have one (sorry to rat you out, Mom). The three oldest boys' are done (including all of the pictures of Joey from his short six-year life). But, I am only half-way through Lil' C's (the hell, you say, he's almost FIVE!) and I have maybe three things written in Baby E's.
Note to yourselves: Never make a pact with Kathy.
Exercise:
Seriously now, stop laughing. I am not alone in the fact that I let my exercise routine slack during the summer. My bloggy friend, Steph, from
I'm Still Learning
lists this as one thing she's going to do now that her boys are back in school. If only she didn't live in New Jersey, we could bitch about it together.
I definitely haven't lost any more weight than after I had Baby E. If anything, I
gained
this summer. But I did
practice more yoga,
which I plan to continue at least once a week. And since my days hopefully won't be as frenzied, maybe I can prepare and eat an actual healthy meal. Preschool is close, too, so maybe Lil' C, Baby E and I can walk most days.
Note to the family: Mama's getting healthy!
My Writing Projects:
This is definitely something I didn't do enough of this summer, and something I definitely want to do more of. Last year, I took a freelance writing class, and got all jazzed to start submitting queries. Only I haven't and now I'm back to square one without knowing where to start. I've got a couple great article ideas that I know would be winners, but I don't know what direction to go.
I've also been telling myself for two years that I would start writing
Joey's story
. I
will
make that into a book. Whether anyone will want to publish it or read it is anyone's guess, but it will get written - for me and his family. I've got great pieces on this blog that I could include, so I thank you all for your feedback on them.
I 'd like to flex my creative writing muscles in general. I have short story ideas (look out
Writer's Digest
) and even an idea for
a Brite
! I've always wanted to try one.
And of course, I'd like to keep bloggng and improve my online presence. I know I need to utilize social media more (
Facebook
,
Twitter,
Pinterest
,
Google +),
but I get really dismayed sometimes that my following is not growing. I definitely need to link up more, guest post, host guests, Tweet, etc...in addition to continuing to submit posts to websites (someone will want me sometime, right?).
Note to my bloggy friends: E-mail me, let's work together!
And of course there are all the obligatory phone calls, appointments, errands, and school functions that inevitably take up time.
I feel like my head is about to explode.
So, I'm predicting that next Tuesday, when I drop Lil' C off at preschool, and Baby E is nestled down for his nap, instead of jumping for joy like above, I will probably stand in the middle of the hallway and think:
"Ummm.....now what?"
So what's on your to-do list now that the kids are back at school? Do you have any advice to help me tackle mine?
Linking up at Just. Be. Enough.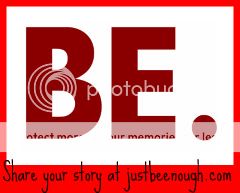 This week's prompt was "Ummm..."
If you are new here WELCOME! Thanks for stopping by. If you like what you read, "like" me on Facebook, and you'll always know what the frog is thinking.